Welcome to the Shinozaki clinic.We support women's health.
Fields of Medical Practice Covered
Menstrual disorders - amenorrhea , irregular bleeding , heavy period , PMS ,menstrual
cramping -
Endometriosis , Fibroid , The Common Candida ,
Oral contraception(The Pill), Emergency contraception, (Morning after pill),
Sexual Transmitted Diseases ,Pap smear
HPV vaccine, pregnant test,
Postmenopausal consultation Osteoporosis
It's not necessary to make an appointment
Consultations are from 12:30 to 18:00 on Tuesdays, Thursdays and Fridays, Wednesdays from 15:00 to 19:00, Saturdays from 10:00 to 12:30.
We are located near Higashinagasaki station on the Seibu line. From the North exit 1-minute walk to the Shinozaki clinic.
201 Toshima haitsu 5-1-31 Nagasaki Toshima ku Tokyo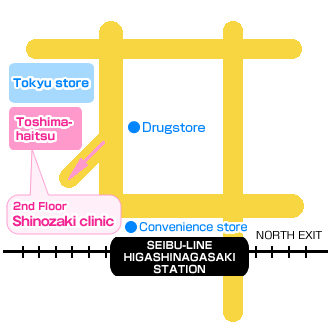 About us
The director of the Shinozaki clinic is Dr. Yuriko Shinozaki, 
Who is well experienced in Gynecology and Obstetrics.
Dr.Shinozaki is a graduate of Tokyo Women's Medical College.
All staff are female,
We are comitted to the early detection and treatment.
Please drop in anytime, call in confidence.